MR KOH TENG BOON
B SC (Maths with Honors), Dip Ed, Dip SA (NUS)
Mr Koh, former National Junior College (NJC) Further Mathematics lecturer, is very passionate about teaching Mathematics that he founded Modular Education Centre 20 years ago and has since been dedicating his time to nurture students in this subject. He is a highly sought-after tutor for his competence to simplify mathematics concepts clearly with "stunning ease and clarity". His use of anecdotes to illustrate concepts and ideas is refreshing and it is simple wonder, then, that students' attitude toward mathematics become more positive and they start to excel academically, from failing to passing and to scoring distinctions.
He customised lessons and worksheets to meet the needs of every student.  Being able to communicate effectively with students of different age group and various levels, he helped to build the confidence of many students who are struggling in the subject.  Parents, seeing great achievements in their older children often requested him to teach the younger ones. Since then he has been teaching the upper primary level, lower and upper secondary levels, junior college level, integrated programme (IP) and the international baccalaureate (IB) programme.
Subject: Mathematics
Levels: Primary 5 – 6 | Sec 1 – 2 Express | Sec 3 – 4 Add-Maths | Sec 1 – 4 IP / IB | JC 1 – 2 | Yr 5 – 6 IB
Student Testimonials
Hi Mr Koh! Just wanted to share with you that I just got offered a spot in NTU Medicine which is my first choice. Really thank you for all the help you have provided me with, especially with cultivating my love for Maths.

Ashley Yew (Anderson JC) 2018
hi mr koh! i got A for H2 math   thankiew so much for all your help! i'm really blessed to have met such an inspiring & patient math teacher like you   super grateful for all the help & encouragement you have given to me everytime i come for class and on whatsapp as well   ive learnt alot from you, and yr really a very passionate and dedicated math teacher   a big thank you once again!

Callista Wong (Anderson JC) 2018
Hi Mr Koh, this is long overdue but i just wanted to thank you so much for all the help (& math puns) you've given me these past 4 years!! i was always meh with maths but having tuition lessons with you is always fun because of your lame jokes HAHA and your many many many worksheets that i drown in!! having you as a teacher made me appreciate math a whole lot more and for that, i'm really grateful!! it's made math so much more interesting and /gasp/ exciting heh. hope you know just how thankful i am to have had you as a math teacher and i'll come to visit you soon!!!!! (once uni apps are out of the way) LOVE UUUUU MR KOH U MY FAV MATH TEACHER.

Chen Jo Ann  (Pioneer JC) 2018
I joined Modular Education when I was in Primary 6. Back then I didn't like Mathematics. But after being tutored by Mr Koh, my grades improved and I slowly gained interest in it. Mr Koh could identify my weaknesses almost immediately, was able to guide me on ways to improve, and has a voice that attracts the attention of students. He also gave us many interesting ways to memorise certain fundamental formulas which made difficult topics much easier to handle. He showed us that many formulas which students were made to memorise can actually be derived from a few definitions. During lessons, the class is interactive and we are free to discuss different methods of solving questions with Mr Koh, as Mathematics is a subject that is free for people to understand in their own way. Mr Koh and Modular Education has made Mathematics much more fun and exciting for me, and has allowed me to foster friendships that last for life!

Loh Hui Xian (P6 to JC2 H2)
Hi Mr Koh, Thank you so much for your help and guidance in Mathematics. For the IB exams, I scored 44 points with 7 points in Math HL. I believe that your teaching and instruction has been very useful considering that I joined the class late in Year 6 and I scored mostly 5 for exams and common test. I hope that you will continue to teach and nurture the next few batches of IB students as you are an excellent teacher.

David Lim (Yr 6 IB ACS (I))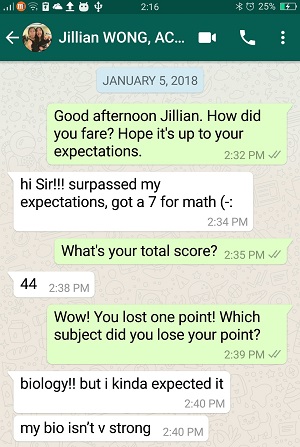 MISS KOH
An Associate tutor with Modular Education Centre for more than 7 years, Miss KOH is an NUS graduate with at least 15 years of teaching experience.  A committed tutor, she is knowledgeable, responsible and cordial yet stern when she needs to. She has an especial interest in students who are weak in mathematics. Being a passionate educator, she applies her excellent knowledge and strategies to teach her students, to inspire and to instill confidence in achieving the best of their ability to score in the subject.
Subject: Mathematics
Levels: Primary 4 – 6

MR BENNY PHUA
Mr Phua is an Honours Degree graduate in Economics from National University of Singapore. A former lecturer with a private institution, he is now a full-time tutor with more than 20 years of tutoring experience in the subject.
Mr Phua's forte lies in his ability to break down complicated economic concepts into clear and understandable terms. He actively engages his students to see the relevance of economics to the practical realities of everyday living so that his students can apply the concepts learned to examination questions. And through his dedicated teaching, he has coached many students to obtain distinctions in A-level examinations.
Subject: Economics
Levels: JC 1 -2 (H1, H2) | Year 5 – 6 IB

MR JEFFREY TAN
Mr Jeffrey Tan holds a degree in Mechanical and Production Engineering- Third Class Honours from Nanyang Technological University. He is a former MOE teacher from Year 2002 to 2012. He is currently a full-time tutor teaching upper secondary science (Pure Physics and Chemistry). He is a very dedicated and responsible tutor. He prepares lessons and sets Term tests for students. He reinforces concepts and applications taught in school as well as to review students' exam papers to identify their weaknesses so that students will not recur their mistakes during national examinations.  Students under his tutelage not only have improved in grades but also their confidence in tackling challenging questions.
Subjects: Pure Chemistry | Pure Physics
Levels: Sec 3 – 4 Express /IP

MRS MANJIT
Mrs MANJIT has been an Associate Tutor with Modular Education Centre for more than 15 years.  She is a former Corporate Communications Officer with a well-established organization.  She holds a Degree in English Language and Literature. She is very passionate about nurturing our younger generation in the English Language and to follow her dream she became a full-time tutor and taught for some time in a MOE secondary school as well as private institutions.
Mrs Manjit has always been rated by our students as being an extremely dedicated and responsible tutor. She is great at creating a comfortable atmosphere in class when engaging with her students. She is noted for her personal coaching style which she strongly believes in. She accomplishes this by looking into the unique needs of each individual student so as to enhance his or her potential by minimizing the challenges faced by each student.
She is able to guide her students to articulate their thoughts and ideas cohesively and systematically. Her English lessons are in line with the syllabus requirement of Ministry of Education. Her Social Studies lessons include engaging students in understanding required topics, imparting skills and techniques to answer source-based as well as structured essay questions.
Students under her tutelage have improved not only in grades but also by becoming more interested in the subject and in this way enhancing their confidence. Her notable achievement includes turning around the grades of students with F9 to C/B/A. The testimony to her success is the fact that some of her students have been with her since kindergarten and remained with her during their Primary, Secondary and Junior College levels.
Subjects: English | General Paper | Social Studies
Levels: Primary 5 – 6 | Sec 1- 4  O-level / IP/ IB | Junior College 1 – 2 (A-level)
Student Testimonials
When I first joined Modular Education Centre, English was the course I signed up for taught by Mrs Manjit. During the weekly lessons, it made me realize how good of a teacher Mrs Manjit is. She will personally mark and check through the compositions and comprehensions and is very patient in clarifying any doubts whatsoever. Not only that, she guides students through the various tips and tricks needed for English. Her impeccable attitude towards teaching is in a way 'motherly' and she takes into consideration the weaknesses and strengths of each student and provides feedback to improve and hone one's skills in their strengths. Even my results can vouch for her effectiveness as a teacher. From Term 2 to Term 3, my grades for English jumped dramatically from C5 in term 2 to A2 in term 3. All in all even though I have only been with the centre for 2 terms. Mrs Manjit as a whole is a very enjoyable teacher to be around and has impacted me greatly as a secondary student. Stephanas Lim (Sec 4)